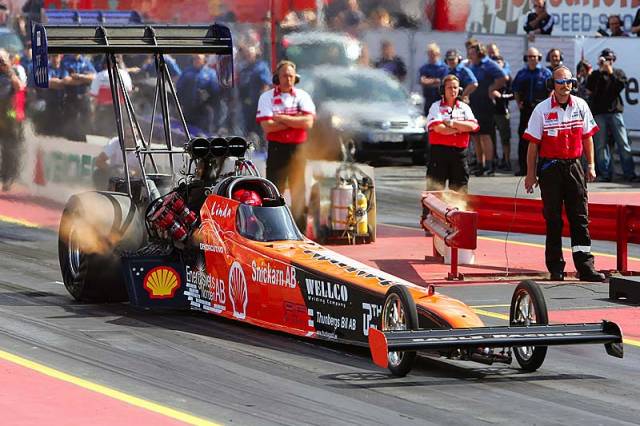 History:

Linda Thun Tønseth

was born on a cold winters night in Røros Norway November 1982. She went to her first drag race meeting at the age of 4 with her dad Arnfinn. He was a mechanic in a drag race team from Røros. With a dad who has had more than 40 different American musclecars it's not surprising that Linda got interested in cars and drag racing.

Linda obtained her Junior Dragster license in 1995 at Orsa Dragway in Sweden. She got her own junior dragster in 1996. The following years she finished 8th in the Nordic Drag Racing Series, in 1998 she became a national champion. She sold her junior dragster the same year then proceeded to buy a Super Comp Dragster. In 1999 she got her license for Super Comp in Vesterås Sweden.

In 2000 she finished 10th in the Nordic Drag Racing Series. The following year she advanced to 4th place, and the next year to 3rd. Linda's dad Arnfinn drove the dragster during 2004, while a pregnant Linda cheered him on. Linda got back in 2005, but just for fun, and only did a few races.

Linda was the first girl in Europe to get a Pro Modified license in 2006, but the team she was driving for decided to quit. She took her Top Fuel license in one of Rune Fjeld's Top Fuel cars in 2007, and drove at the Flame and Thunder the same year.

In 2008 it was ment to be a "chick fight" at Gardermoen Raceway, Linda vs. Siw but the event was a total rain off. She attended the National finals 2008, but problems with the car kept her out of the winners circle.

During this winter Linda has been looking for sponsors for the 2009 season, with no luck, so she was prepaired for no racing at all this summer. Rune Fjeld gave Linda a call just before Easter and asked if she wanted to drive at Easter Thunderball. And ofcourse she did.

She also got to drive at the Main Event (her first FIA race). After this she got Sponsorship to race at Veidec Festival were she qualified as #3 and is now the fastest girl in Europe in Top Fuel. She is now ready for the Europian Finals at Santa Pod Raceway.

2010 : No racing for Linda this season due to lack of sponsors, but she has not given up getting back in the seat. During the authum 2010 she got asked by former European Champion (2006) in Pro Mod Urban Johansson if she was interessted in driving Pro mod again in a two car team. Of course she said yes and hard work started again on getting sponsors and a trip to USA to buy a new Pro Mod car for VBS Racing team was made.

The plan is for Linda to drive all FIA races 2011. Hope to see you all at the racetrack!

Linda lives in Trondheim in the middle of Norway. Besides the racing, Linda is studying economics and she has a 6 year old son, Patrick, who is just as crazy about cars as his mum. He has already decided which colours his junior dragster is going to be painted. During the wintertime Linda is up in the mountains in Sweden almost every weekend driving around on her snowmobile, which is also a family hobby. Linda is still working on sponsorship, and hopes to be racing for the 2011 FIA Championship.

Contact:

+47 95 15 77 81

.........................................................................
YourCompany.Com © 2003 • Privacy Policy • Terms Of Use